How to Measure Australian Stock Saddles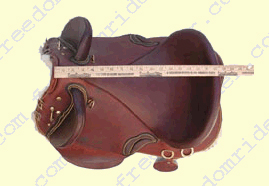 Australian stock saddles are measured by using a straight ruler, measuring from the stitched seam in the front, to the inside of the back of the cantle. The measurement ends where the cantle starts to rise up over the top. The saddle pictured is a 16-1/2" seat.†Saddles with horns are measured the same way.

The capacity of the seat varies from model to model, and varies by the position of the knee pad. Saddles are hand made, and seat measurements can vary up to 1/4" from the stated seat size.